Learn to approach the Stock market in an exceptional way like the venture Capitalist, Hedge Fund Managers. Trade with precision and accuracy, to Grow Trading experience Faster and Easier than Ever Before (even if everything else you've tried has failed!)
Mayowa has been featured on...
Here's An Overview Of Everything
You'll Get When You Join
Stocks Mastermind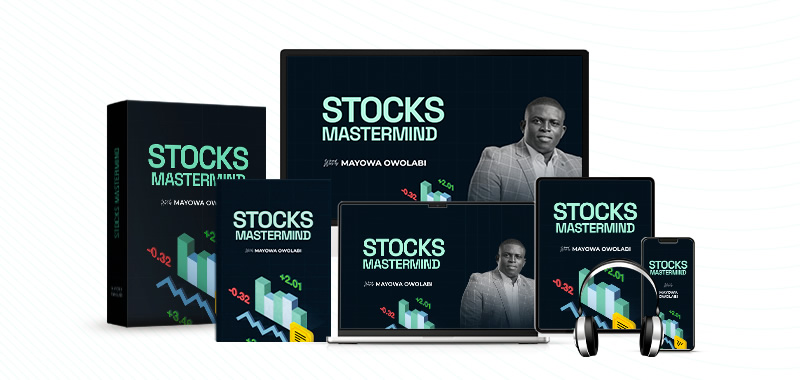 Stocks Mastermind
3-Part Training Program
Introduction To The Stock Market?
The Introduction to the Stock Market module in this Stock Course covers the basics of the stock market, including its functions, key terms, and how it works. It provides an overview of the stock market as a tool for investing and introduces learners to the fundamental concepts needed to understand and participate in the stock market.
Understanding The Transactions: "BID" & "ASK" With LIVE Demonstrations
This module covers the two primary components of a stock quote: the bid price and the ask price. It explains how the bid and ask prices are used to determine the current market price of a stock and how they reflect the supply and demand for a particular stock. The module also provides insights on how traders use bid and ask prices to make informed trading decisions.
Choosing A Broker
The Choosing A Broker module in a Stock Course covers the key factors to consider when selecting a broker to buy and sell stocks. It highlights the different types of brokers, such as full-service brokers, discount brokers, and online brokers, and the pros and cons of each. The module provides insights on how to evaluate brokers based on factors like commission fees, account minimums, customer service, trading platforms, research tools, and educational resources.
Placing A Trade
This module provides an overview of the different types of orders, such as market orders and limit orders, and how to choose the most appropriate order type for the trade. Also, the module is designed to equip investors with the knowledge and skills necessary to execute trades effectively and efficiently in the stock market
Understanding different types of Stocks
The Understanding Different Types of Stock module in a Stock Course covers the various categories of stocks, such as common stock, preferred stock, blue-chip stocks, penny stocks, growth stocks, value stocks, and income stocks. By understanding the different types of stock, investors can make informed decisions about which stocks to include in their investment portfolio based on their individual goals, risk tolerance, and investment strategies.
Ordinary People. Extraordinary Results.
" Prior to joining the ITC training course, I had been trading; however, this course changed my chart analysis perspective. It does the impossible by coupling low risks with insane rewards and as a trader this is priceless.I believe anyone who applies the smart-money concepts the training provides is bound to see immense results."
Technical Analysis mind
The "Technical Analysis" section in a stocks course covers the process of evaluating stocks based on historical price and volume data. Students learn about the different tools and techniques used in technical analysis
Direction
This Module covers the process of identifying trends and directions in the price movement of stocks. Students learn about the different types of trends, such as uptrends, downtrends, and sideways trends, and how to identify them.
Location
In this module, student learn how to identify support and resistance, supply and demand, and flip zones and understand their dynamics. As a matter of fact, they are key areas where price tends to bounce or reverse. By the end of the module, students should have a better understanding of how to use these concepts to make informed trading decisions in the stocks market.
Confirmation & Entry
The "Confirmation & Entry Techniques" module in this course teaches traders how to use technical analysis tools and indicators to confirm price movements and identify entry points in the market.
Ordinary People. Extraordinary Results.
ITC course was a game-changer for me. It's an instrument that performed surgical activities in my trading experience. It removed some noise and lots of irrelevances I acquired over the years. I learnt precision trading which increased my winning rate. Also, I learnt the ability to modify my entry-level to use small risk. It has increased by reward by far. I encourage everybody to join ITC to learn how the institutions trade.
Stocks Investment Psychology
The "Stocks Investment Psychology" module in this stock course is focused on helping investors understand the emotional and psychological aspects of investing in the stock market. It covers topics such as risk tolerance, fear and greed, cognitive biases, and strategies for managing emotions when making investment decisions. The module aims to help investors develop a disciplined and rational approach to investing and avoid common pitfalls that can lead to poor investment decisions.
Portfolio Diversification
This module covers topics such as asset allocation, risk management, and strategies for building a diversified portfolio that aligns with an investor's goals and risk tolerance. The module aims to help investors make informed decisions about how to allocate their investments and avoid overconcentration in a single asset or sector.
Risk Management
The "Risk Management" module in this course is focused on helping investors identify and manage risks associated with investing in the stock market. It covers topics such as volatility, market risk, liquidity risk, and credit risk, and provides strategies for managing these risks through diversification, hedging, and other risk management techniques. The module aims to help investors develop a disciplined approach to managing risk and avoid common mistakes that can lead to significant losses.
Understand power of Compounding
The module aims to help investors understand how small investments made over a long period of time can lead to significant wealth accumulation and how to incorporate compounding into their investment strategy. It covers topics such as compound interest, reinvestment of dividends, and the time value of money.
Ordinary People. Extraordinary Results.
If you don't come a rich family, a rich family should come from you. ITC is a family where we take care of one another. Institutional trading has never been easier. The concepts learnt here will take you from a novice to executing sniper entry positions in the FX market. It's a no brainier. Sign up "
Let's do a quick recap of what you're about to get when you sign up!
VIP 1 Year Access
Benefits
Total Value of $11,000
997 USD
Join Now And Save $10,000
PREMIUM 1- Year Access
Benefits
Total Value of $61,000
4,997 USD
Join Now And Save $56,000
...PLUS INSTANT ACCESS TO THESE BONUSES
VIP BONUS 1: COT Training
The Commitments of Traders (COT) is a report issued by the U.S. Commodity Futures Trading Commission
(CFTC) on a weekly basis that provides information on the positions held by various types of traders in the
futures markets. The report shows the net long or short positions held by commercial traders, noncommercial traders (such as hedge funds), and small traders in different commodity futures contracts.
It can be used as a tool to gauge the sentiment of the major players in the currency futures markets, which
can provide insights into potential market trends.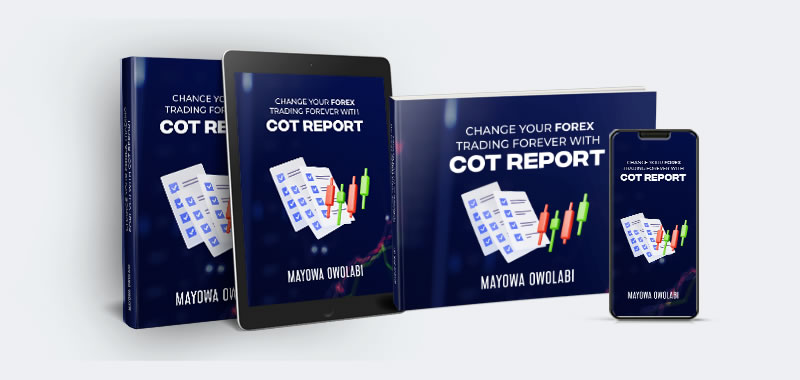 The Institutional Trading Concept is a mind-blowing trading concept, the most amazing thing is how it was simplified in the course, Mr. Mayowa Owolabi broke it down in an easy and practicable way. Asides from the fact that I learned to trade as the banks and institutions do, I have been able to up my trading mindset.."
VIP BONUS 2: How to 10X your Trading account course
To 10X your trading account in forex, you would need to generate a 1000% return on your initial
investment. This is a challenging goal that requires a solid trading plan, discipline, and risk management
skills. The mastermind give ways to potentially achieve this goal in forex trading include using a high-risk
high-reward strategy, identifying favorable market conditions and taking advantage of leverage.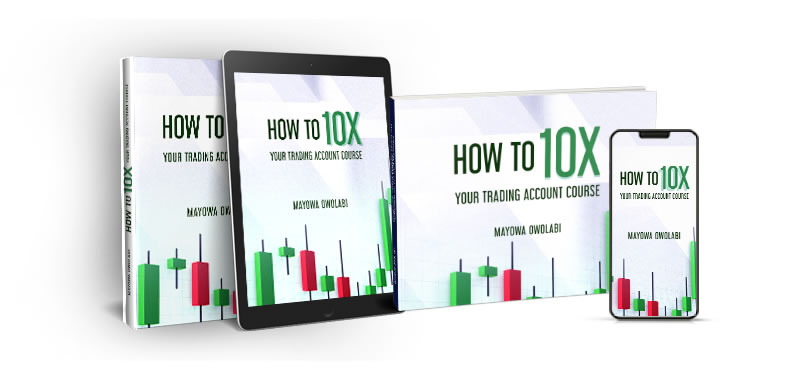 I now have so much confidence in myself and in my analysis which I was lacking before, i no longer wait or depend on other people's signals, I now make consistent profit with minimal loss as loss is inevitable when trading the Forex Market. But overall there has been a positive change in my trading life. I am so happy and excited, I give all glory to GOD almighty for making this possible and I also thank the founder of the ITC strategy for his simplicity in his explanation when teaching the strategy.
VIP BONUS 3: Currency Index Training
Currency index reflects the overall strength or weakness of a particular currency relative to other
currencies. Traders may use currency indices to make informed trading decisions based on the overall
performance of a currency against a range of other currencies. This approach can provide traders with a
more comprehensive view of the currency markets and can help them identify potential trading
opportunities.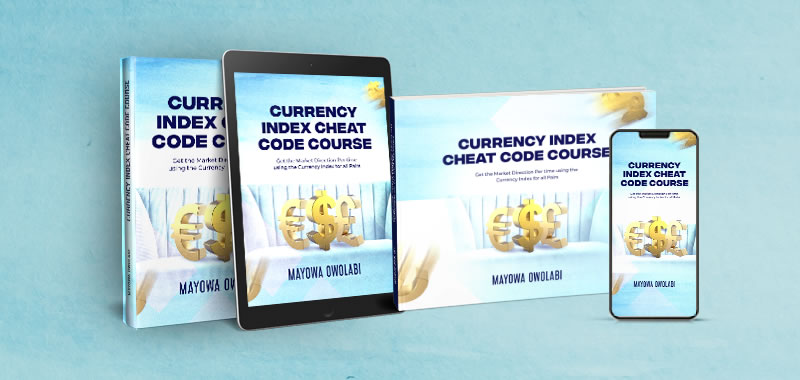 I am so elated, delighted, and filled with so much joy as I write this message.Before now I have been struggling with trading the Forex Market and jumping from one strategy to the other but I must confess that after I have successfully completed the ITC(Institutional Trading Concept) course, my trading career has taken a new turn.
Let's do a quick recap of what you're about to get when you sign up!
VIP 1 Year Access
Benefits
Total Value of $11,000
997 USD
Join Now And Save $10,000
PREMIUM 1- Year Access
Benefits
Total Value of $61,000
4,997 USD
Join Now And Save $56,000
Need Assistance? Call Us or Whatsapp on + 234 904 999 0004
"My goal is to help at least 1million people in the next 10years. I desire to be a blessing to an average of 1million people in the next ten years by providing access to the right information and making good money as I do. With the right information you can achieve anything you set your heart to."
Serial Entrepreneur and Investor